It said the money could be raised by setting the threshold for the 45p rate of income tax at £80,000 instead of £150,000 and introducing a new 50p rate on earnings over £123,000.
Outlining pledges to nationalise water, energy, railways and the Royal Mail, Jeremy Corbyn took aim at his rival, Tory leader Theresa May.
Responding to a suggestion by Sky's Political Editor Faisal Islam that the plans showed a return to policies last seen decades ago, the Labour leader said: "People talk about the 1970s… the other major party contesting this election is really, really forward looking.
"They're going to bring back fox hunting and grammar schools – that sounds really 21st Century doesn't it?"
The biggest single revenue raiser would be an increase in corporation tax from 19% to 26% by 2020, the 124-page manifesto promised.
"This is a programme of hope. The Tory campaign by contrast is built on one word – fear," said Mr Corbyn, launching the manifesto in Bradford.
"Our proposals are of hope for the many all over this country and I am very proud to present our manifesto for the many not the few."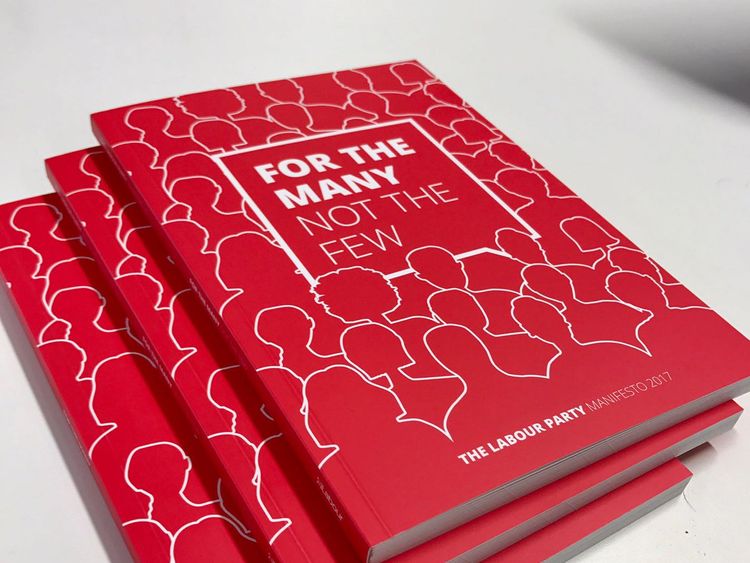 Image:Labour's manifesto. Pic: @jeremycorbyn
Labour is the first of the main political parties to unveil its General Election manifesto. Here are some of the top pledges:
:: Tax
An increase in corporation tax from 19% to 26% by 2020. Reintroduction of lower rate for small businesses.
A 45p income tax rate for those earning £80,000 plus, and the 50p rate would kick in at £123,000. The Institute for Fiscal Studies said previously about proposals to reintroduce the 50p top tax rate that it would only bring in £100m.
:: Levy on "excessive" salaries
An excessive-pay charge on firms: 2.5% on earnings over £330,000 and 5% on those over £500,000.
:: Workers' rights
A pledge to ban zero hour contracts to guarantee workers a "number of hours each week".
Labour says the cost of raising the living wage to £10 per hour by 2020 is zero. The IFS says it will hit low wage jobs and those it is intended to help.
:: Renationalision
Bringing the railways back into public ownership and reversing the privatisation of Royal Mail.
Plans include replacing "our dysfunctional water system" with a network of regional publicly owned water companies.
There is also a pledge to regain control of energy supply networks to keep fuel prices down and ensure a green energy policy for the future.
:: Immigration
There will be no "bogus targets". Instead, the party "offers fair rules and reasonable management" of migration.
International students would not be included in immigration numbers, but there would be a crack down on "fake colleges".
:: Health
A commitment of more than £30bn in extra funding over the next Parliament.
The party would scrap the pay cap, and immediately guarantee the rights of EU staff.
:: Education
Labour plans to spend an additional £25.3bn a year on education (£6.3bn for schools alone) – more than half of the party's total projected spend of £46.8bn.
Extend the provision of 30 hours a week of free childcare for all two to four-year-olds.
The party would scrap university tuition fees and reintroduce maintenance grants for students.
:: Brexit
The party says it would not accept Britain leaving the European Union without a new trade deal. A "no deal" scenario would be "the worst possible deal".
It says only Labour would negotiate a deal that preserves jobs and access to the single market (although the manifesto says Freedom of Movement will end when Britain leaves the EU).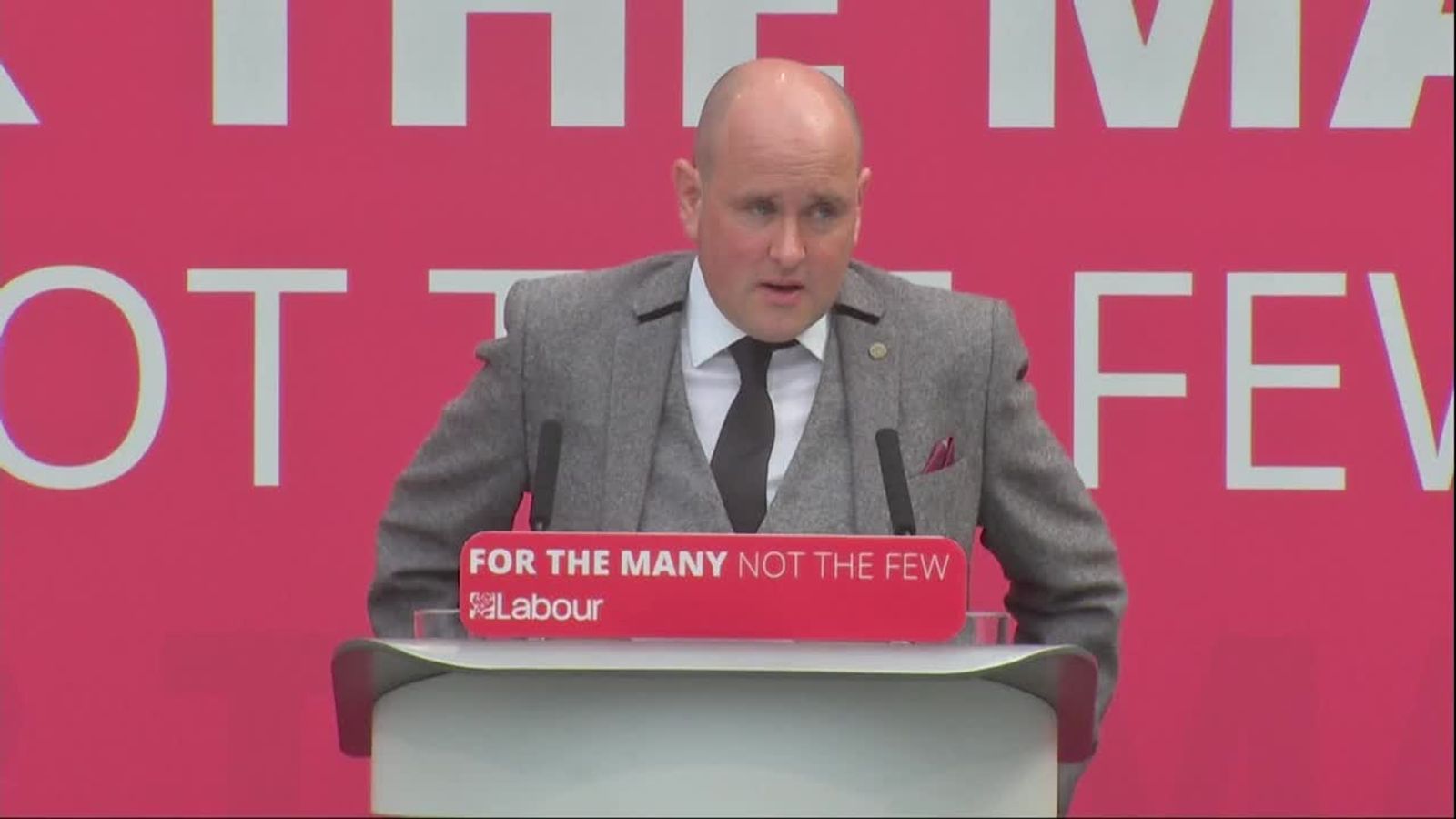 Video:
David Gauke, Chief Secretary to the Treasury, said Labour's plans "simply don't add up" and would mean "more borrowing and debt".
Carolyn Fairbairn, CBI director-general, said some proposals deserved "three cheers", but on the whole "prioritise state intervention over enterprise, and fail to offer the pro-growth and competitiveness agenda the country so badly needs".
More follows…