While being interviewed by Sky News near the tower block in west London, Mrs Leadsom was repeatedly challenged by angry residents, some who yelled: "Meet the victims!"
Nadir, 24, who has friends in Grenfell Tower, said: "At least she (Theresa May) could've met the victims, (Jeremy) Corbyn was a good man… he came and met the people.
"He didn't come with a bunch of police… no one even saw her."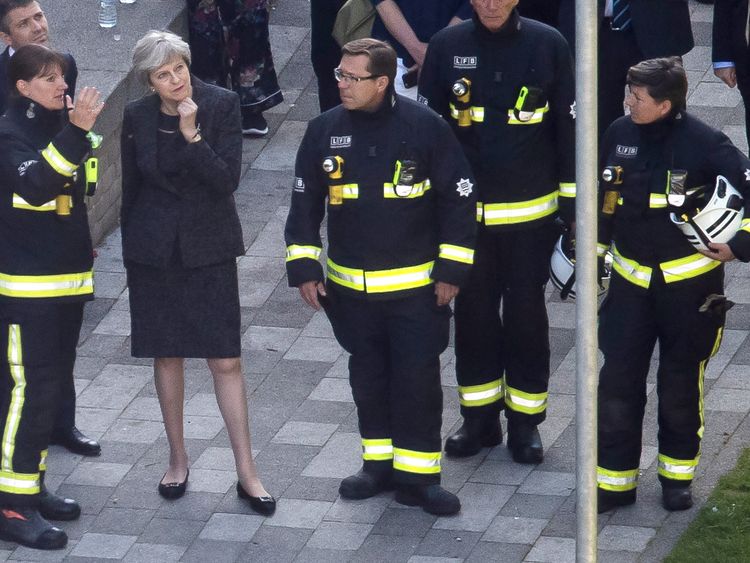 Image:Theresa May speaks to the commissioner of the London Fire Brigade at the scene on Thursday
The Prime Minister has come under fire for visiting the scene of the disaster on Thursday but not meeting survivors or residents. Her aides said the purpose of her visit was to get a briefing from emergency services.
On Friday, she visited victims of the fire who are being treated at Chelsea and Westminster Hospital.
Asked by Sky News whether the Prime Minister had displayed a lack of humanity, Mrs Leadsom replied: "The Prime Minister is absolutely heartbroken."
Speaking outside the Rugby Portobello Trust, which has been collecting clothing, food and bedding for the tower's residents, she added: "I don't really think it's appropriate to talk about whether people have humanity or not."
Mrs Leadsom later denied the row represented a threat to Mrs May's leadership.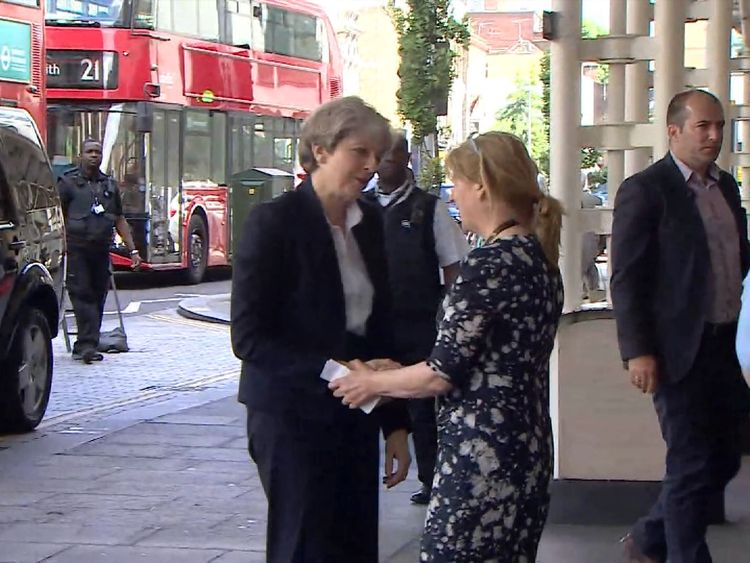 Image:The PM visits victims of the Grenfell Tower fire in hospital on Friday
The Cabinet minister said anger at the disaster, which killed at least 30 people, was "totally understandable".
Nadir tackled Mrs Leadsom over why sprinklers had not been fitted in Grenfell Tower during a recent £8.6m refurbishment.
She said: "The ministers are looking carefully at all of the implications, whether there are quick wins that can be done, in which case they will be done, and of course the longer-term policies."
Nadir told the minister: "Enough is enough. I've got friends in that tower, I've got a right to be angry."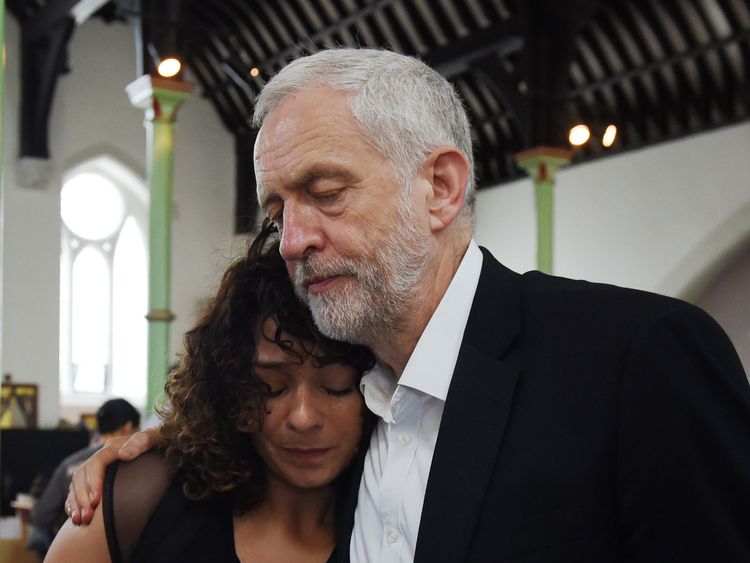 Image:Jeremy Corbyn comforts a resident at St Clement's Church
Earlier on Friday, the Prime Minister's new chief of staff Gavin Barwell refused to comment to Sky News on his way into Downing Street.
Mr Barwell, who was housing minister until last week, has faced questions over a delayed review of fire safety in high-rise buildings.
Former Conservative cabinet minister Michael Portillo said the Prime Minister meeting emergency services at the scene on Thursday was "a good thing" but that she "should have been there with the residents".
Hours after Mrs May's private visit, Labour leader Mr Corbyn made a trip to a church being used as a relief centre where he was photographed with his arm around the shoulders of some of those affected.
On his own visit on Thursday, Mayor of London Sadiq Khan faced angry questions from local residents.