In a statement, the Prime Minister acknowledged the "huge frustrations" residents have experienced in trying to get answers from the council – and she vowed the public inquiry into the deadly blaze will be "open and transparent".
Mrs May said the name of the judge who will head the inquiry is going to be announced in the next few days.
The PM also confirmed that she will be the person responsible for implementing the inquiry's findings.
Image:Dozens of people are feared to still be inside Grenfell Tower
She said: "People lost everything in the fire and were left in only the clothes they were wearing.
"I can confirm that a £5m emergency fund that I announced yesterday is now being distributed on the ground so people can buy clothes, food and other essentials. If more funding is required, it will be provided.
"Residents rightly want to know when new housing will be provided. I have fixed a deadline of three weeks for everybody affected to be found a home nearby."
Mrs May added that she has requested "daily progress reports" to ensure victims are re-homed quickly.
London mayor Sadiq Khan has called for re-housing efforts to be "speeded up" and pressed Mrs May to make sure "the recovery operation receives all resources and expertise they need".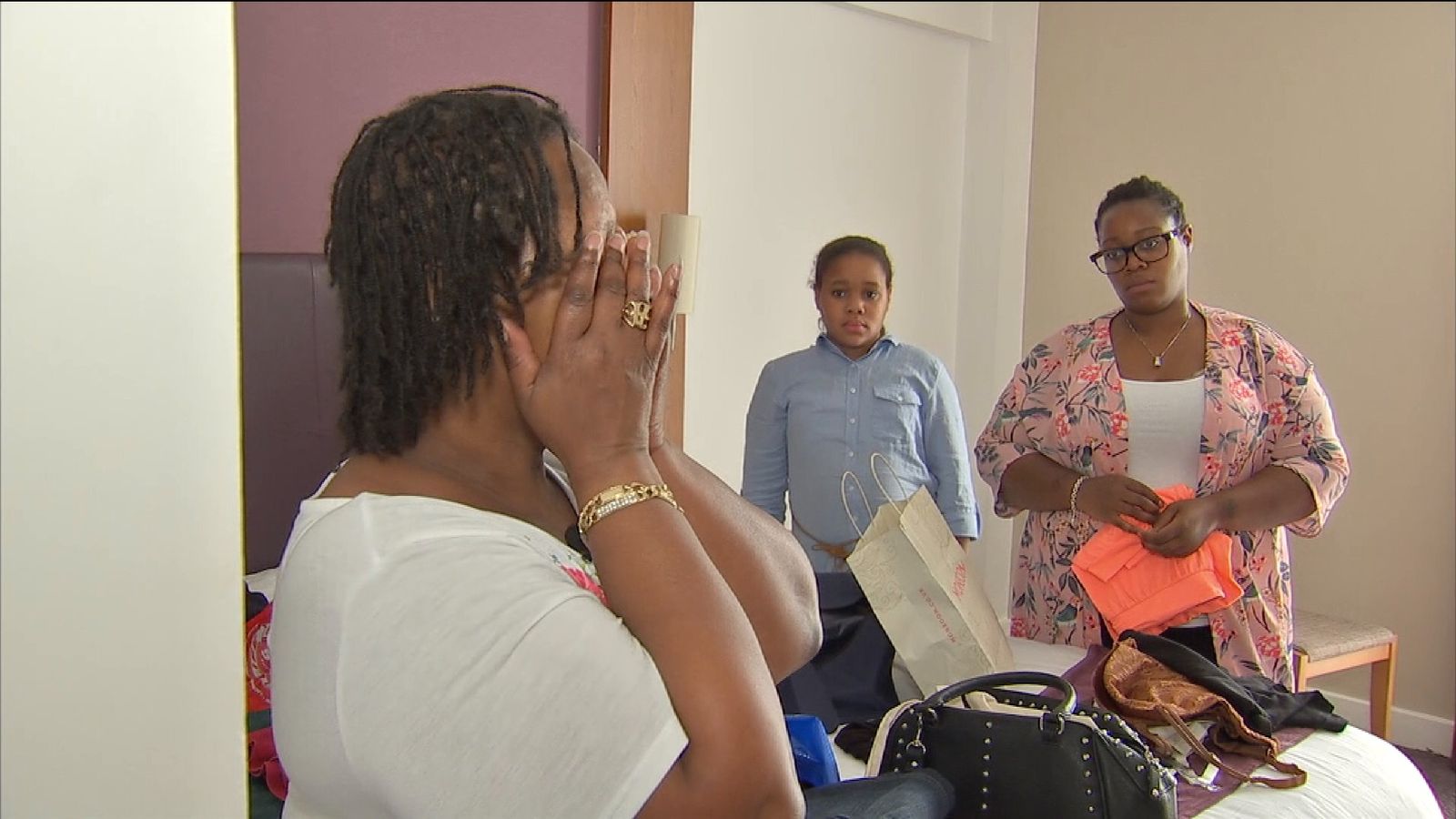 Video:
On Saturday afternoon, victims of the tower block fire – along with volunteers and community leaders – met with the Prime Minister at Downing Street for two-and-a-half hours.
The Bishop of Kensington, Dr Graham Tomlin, attended the talks and said: "There was passion, there was anger, but there was good, hard, reasoned argument used by the residents."
He believes residents left the meeting feeling "reassured that they were listened to", but added: "Time will tell as to whether it makes a difference. We wait to see what action will come from it."
The PM has come in for heavy criticism over her response to Wednesday morning's fire, and protests were held in Whitehall as Mrs May met the locals.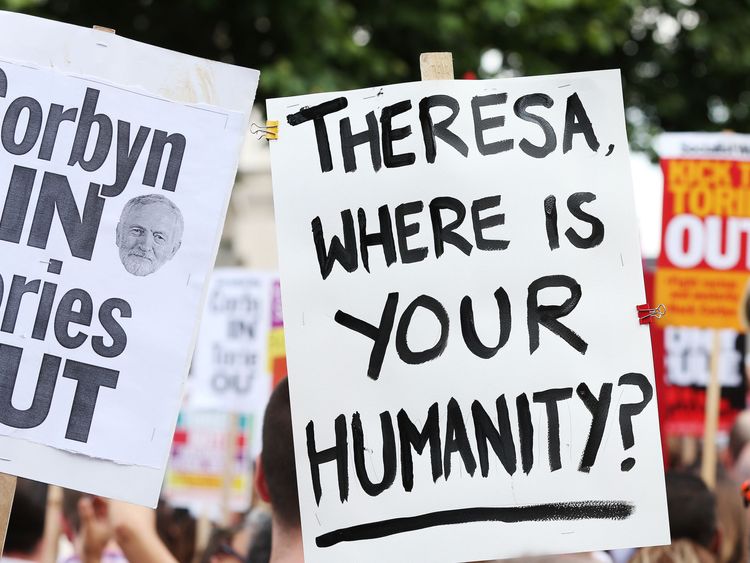 Image:Protests have taken place in Whitehall as survivors met with the PM at Downing Street
As part of the "comprehensive package" of support arranged for victims on Friday, Downing Street says:
:: Residents of Grenfell Tower will be rehoused at the earliest possible opportunity, within three weeks at the latest.
:: People will be rehoused as close as possible to their previous address, either in Kensington and Chelsea borough or a neighbouring borough, in order for them to access their same schools and GPs.
:: The cost of temporary accommodation will be covered until they are rehoused, with the Government also providing cash for any extra expense incurred by children travelling to their local school.
Mariem Elgwahry lived on the 19th floor of the tower block

Ali Yawar Jafari is 82 years old and reported missing by his family

Jessica Urbano is just 12-years old. Director Noel Clarke tweeted an appeal for information on the teen

Mohamed 'Saber' Neda was last heard from at 3am, trapped in the kitchen of his top floor flat

Mary Mendy, who is in her late 50s, was in her 20th floor flat with daughter Khadija Saye
/
The newly elected Labour MP for Kensington, Emma Dent Coad, says she has heard reports that some of the Grenfell victims have been sent outside of the borough with just £10 a day to live on.
In a letter to Home Secretary Amber Rudd, she said such cases must be "addressed without delay" if they are accurate.
The MP also said all those affected should be able to access support around the clock – and called for victims to be given named officials who they can deal with directly.
Police now say 58 people who were in Grenfell Tower on the night of the blaze are missing and presumed dead, including 30 confirmed fatalities. That number may rise.