The Chancellor turned down the chance to rule out such an end state in a letter sent in December but this news has only just been revealed by a senior Conservative colleague.
Nicky Morgan, who backed Remain in the EU referendum and chairs the influential Treasury select committee, asked Mr Hammond to "explicitly rule out" a customs union deal with Brussels.
But he only pointed out that Britain will leave the current customs union, adding Britain would "need to seek a new customs arrangement".
The reply will spark questions over whether a deal will be struck that limits the UK's ability to trade with other countries outside the EU.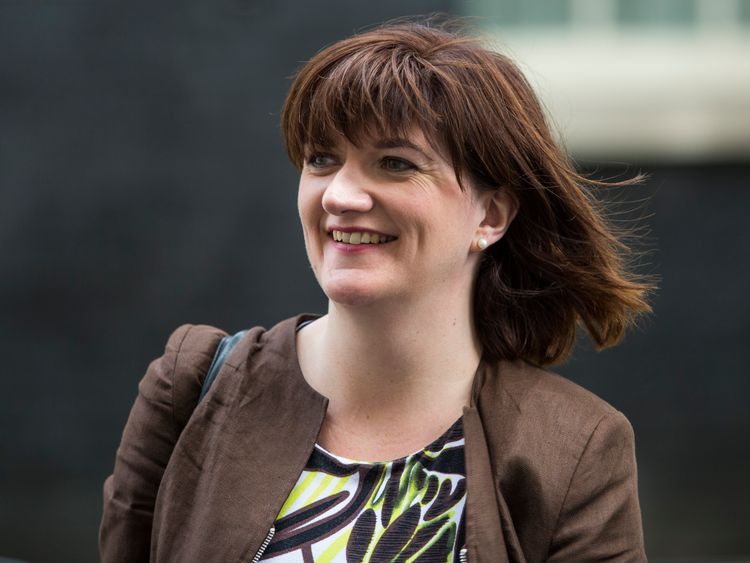 Image: Nicky Morgan said clarifying a position was 'a matter of urgency'
Publishing the letter, Ms Morgan said: "It was widely thought that being in a long-term customs union with the EU had been ruled out by the Government. But the Chancellor's letter confirms that this is not the case.
"It is vital that the Cabinet reach agreement on these central questions about the UK's future relationship with the EU, as a matter of urgency."
Liberal Democrat leader Vince Cable added it gave "some reassurance that the Chancellor does understand the economic advantages of being part of a customs union with the EU".
But one Tory MP told Sky News the move by Ms Morgan was "remoaner c**p" and added: "The Prime Minister beats the Chancellor in political top trumps."
Negotiations are currently under way over the UK's access to the EU's customs union – the current trade agreement that imposes no internal tariffs in exchange for a commonly-agreed external one.
Brussels wants Britain to remain a member for the two-year transition, but Theresa May has promised Brexit will happen in March 2019.