Chancellor Philip Hammond and Brexit Secretary David Davis – who sit at opposite ends of the divorce spectrum – have united to pen a column in the Frankfurter Allgemeine newspaper.
Writing as they travel to Berlin and Munich, the pair hope to win over Germans as the UK gears up for phase two talks with Brussels.
They say the UK wants the most ambitious economic partnership with the EU "in the world", but that will require a "bespoke solution".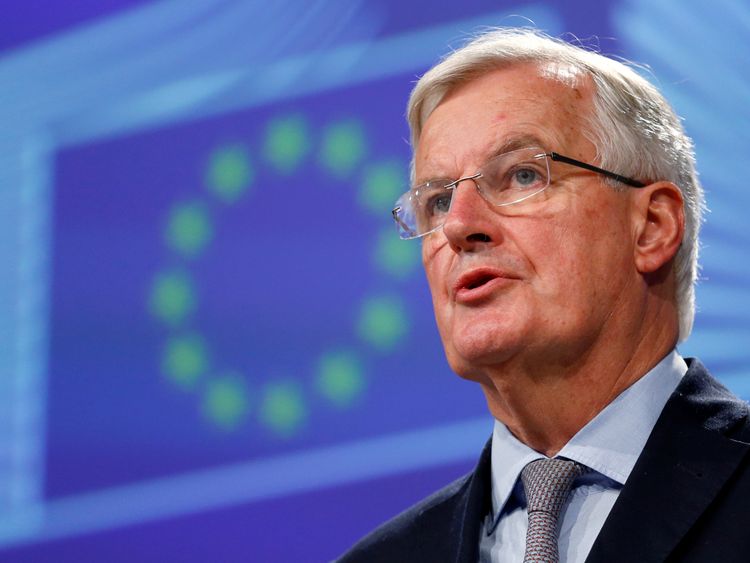 Image: Michel Barnier has told the UK it cannot 'cherry pick' the makings of a post-Brexit deal
Mr Hammond and Mr Davis wrote: "As Brexit talks now turn to trade, the UK will look to negotiate a new economic partnership with the EU – the most ambitious in the world – that recognises the extraordinary levels of interconnectedness and co-operation that already exist between us.
"When we leave the European Union, we will leave the customs union and single market, but in agreeing a new model of co-operation, we should not restrict ourselves to models and deals that already exist.
"Instead we should use the imagination and ingenuity that our two countries and the EU have shown in the past, to craft a bespoke solution that builds on our deeply integrated, unique starting point to maximise economic co-operation, while minimising additional friction."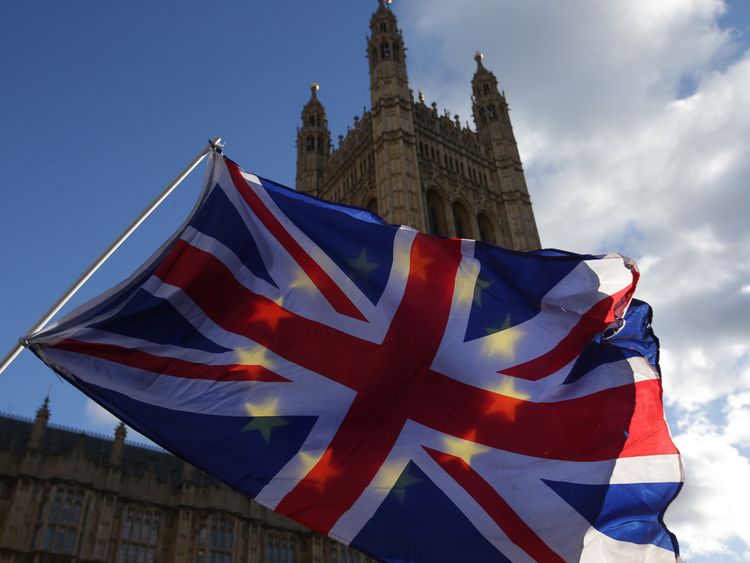 Image: Phase two of Brexit talks are due to start around March
The intervention will put them on collision course with EU chief negotiator Michel Barnier, who has said Britain will not be able to "cherry pick" the makings of a post-Brexit deal.
It also comes at a sensitive time in negotiations. Further talks on the UK's future relationship with the bloc are due to begin around March.
Sky's Jon Craig said: "The UK's plea to Germany not to erect trade barriers after Brexit is unlikely to receive a definitive response at this stage.
"The German Chancellor Angela Merkel is still struggling to put together a coalition government after last year's election stalemate, which means German policy on post-Brexit trade is on hold and going to have to wait."
Ina speech in Brussels on Tuesday, Mr Barnier said the UK was limiting its options – adding: "What kind of future relationship does the UK want with the European Union?
"We don't yet have the answer to this question. However, we can proceed by deduction, based on the Union's legal system and the UK's red lines.
"By officially drawing these red lines, the UK is itself closing the doors, one by one."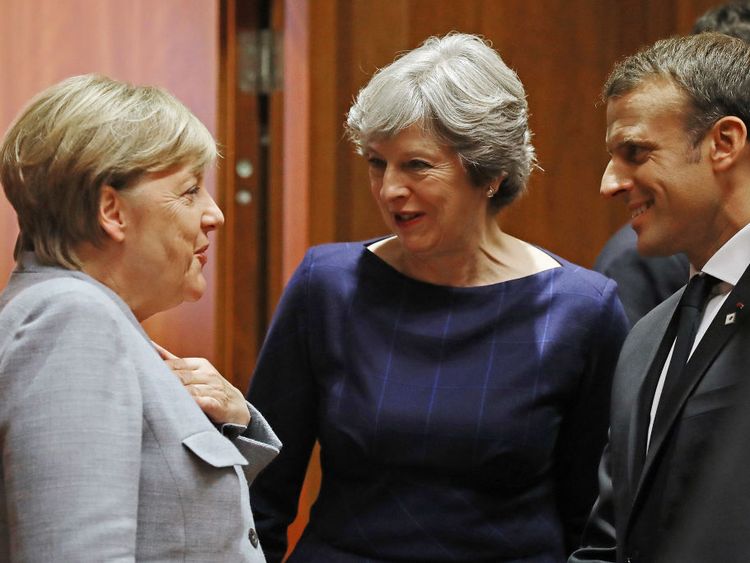 Image: Chancellor Angela Merkel has still to form a coalition government in Germany
He added that a free trade deal would not include the benefits of the single market, saying: "As the United Kingdom wants to regain its autonomous decisions, it will have to respect ours."
Mr Barnier will continue his meetings with senior UK figures on Wednesday, following talks with Jeremy Corbyn and Nigel Farage.
Former trade minister and ex-CBI chief Lord Jones of Birmingham, and the chairs of Leave Means Leave and Labour Leave, will urge Mr Barnier not to agree a deal that restricts the UK's "economic and regulatory freedom".