Canadian economy lost 88,000 jobs in January
The Canadian economy shed a surprising 88,000 jobs in January, with the losses concentrated in part-time work, Statistics Canada reported Friday.
The drop in employment — the biggest one-month slide in nine years — pushed the national jobless rate up by 0.1 percentage points to 5.9 per cent.
It's a marked difference from November and December, when a total of 145,000 jobs were added.
In January, Statistics Canada said part-time employment declined by 137,000. Meanwhile, full-time employment grew by 49,000.
"Overall, a mysterious mix of good and bad, with the latter's impact blunted by how strong job gains were in the lead-up to these figures," CIBC chief economist Avery Shenfeld wrote in a commentary.
"January saw an (88,000) drop in employment, reversing about half of the spectacular gains we registered late last year. But the details also looking wonky, with all of the job losses in part-time work," Shenfeld said.
The weak employment report for last month was worse than economists had been expecting. The market consensus was for a loss of roughly 9,000 jobs.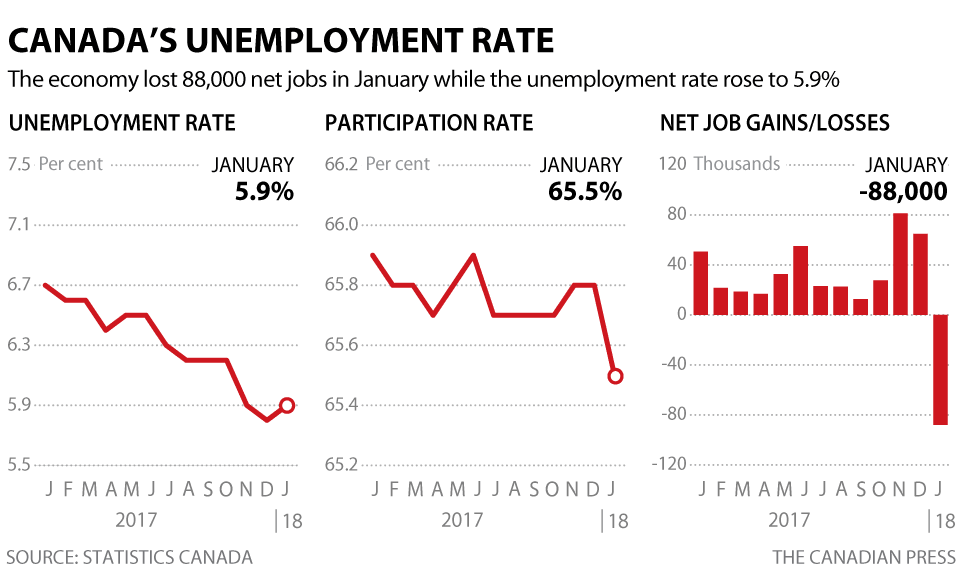 Statistics Canada said the largest employment declines were in Ontario and Quebec. There were also decreases in New Brunswick and Manitoba.
In Ontario, which increased its minimum wage in January, employment fell during the month, due to losses in part-time work. The unemployment rate in the province was little changed at 5.5 per cent as fewer people participated in the job market.
By industry, employment across the country dropped in several fields, including:
Educational services.
Finance, insurance, real estate, rental and leasing.
Professional, scientific and technical services.
Construction, as well as health care and social assistance.
Conversely, employment grew in the sector designated by Statistics Canada as business, building, and other support services.
In the wake of the release of the January jobs report, the Canadian dollar traded higher, rising by 0.16 of a U.S. cent to 79.46 cents US.
Link to article: